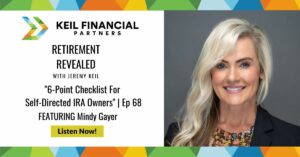 If you wish to have more control over what your individual retirement account (IRA) invests in, a self-directed IRA (SDIRA) is for you. Tune in to learn more about SDIRAs and how they help you diversify your retirement portfolio by using alternative investments.
There are many tools that can help you save for your ideal retirement, including retirement savings plans. But with all the options…
Free Guide
Download your retirement planning guide now.
Download our Retirement Guidebook
7 Questions That Could Make or Break Your Retirement