3 Ways To Find The Best Advisor For You | Blog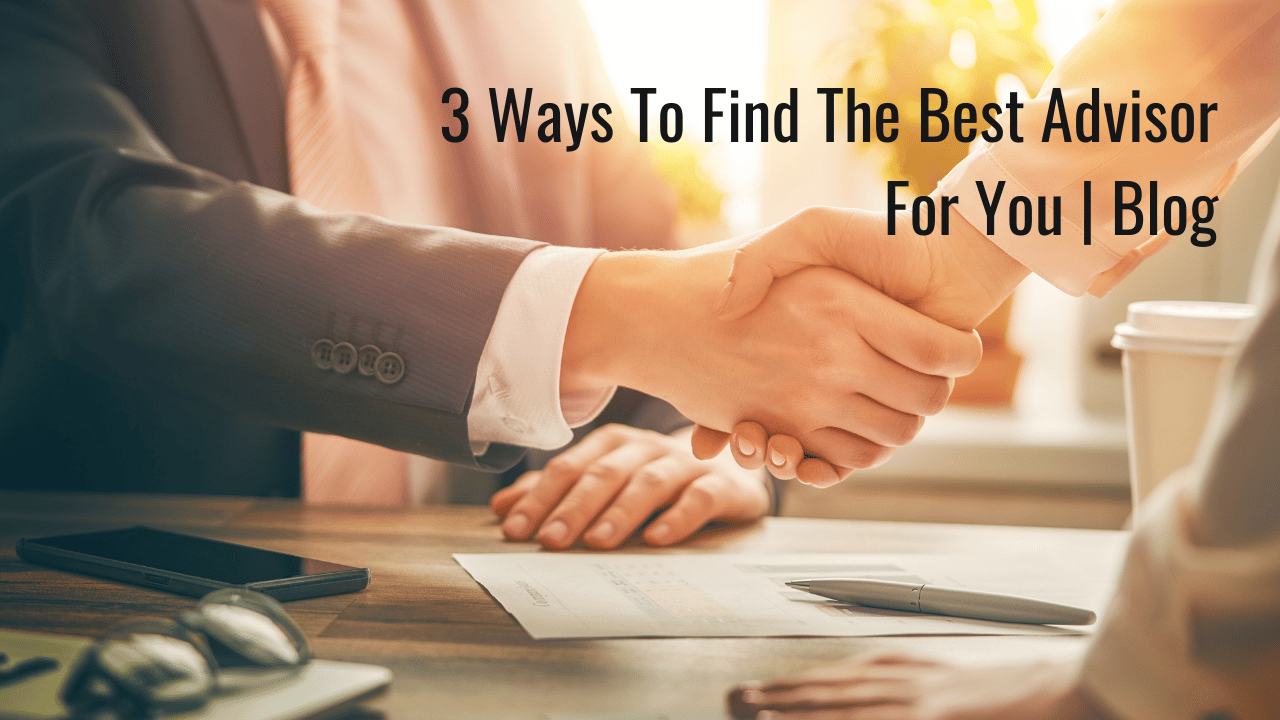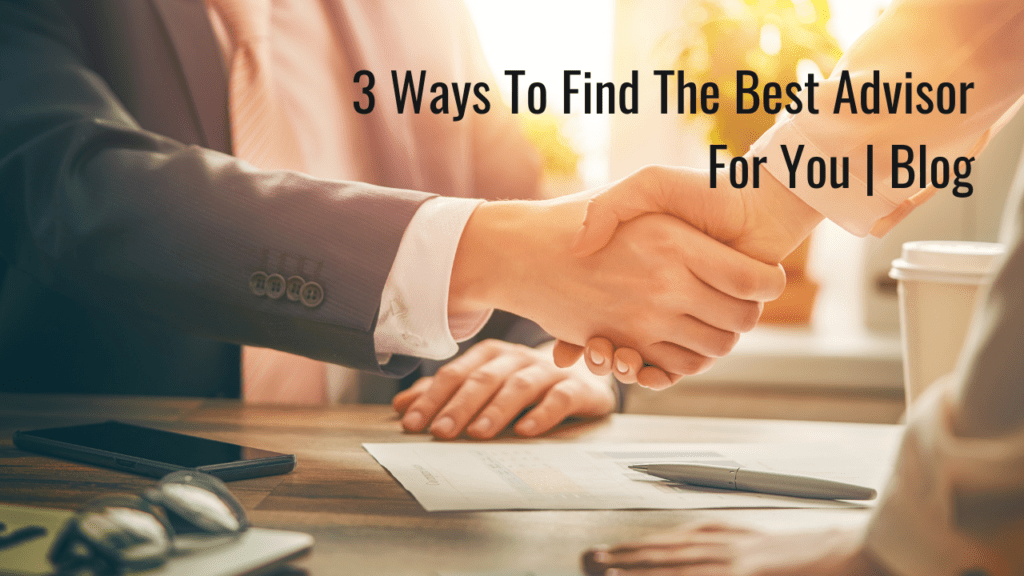 When making big purchases like buying a new car or home, you do your homework, look at different options, and find the best fit for you.
Why should finding your new advisor be any different?
To find the right advisor for you, we believe that you should be doing your research, interviewing multiple advisors, and digging into who they are and how they might serve and your needs.
To help you on your search for that right advisor, we're sharing our top three tips for finding the right advisor for you.
1. Separate The Good From The Bad
How can you tell if an advisor is a good advisor or a not-so-great advisor?
One big way to tell what type of advisor someone will be for you is through one specific keyword: "fiduciary."
Being a fiduciary means that as an advisor, you are dedicated to always act in your client's best interest — not for your own benefit.
However, finding an advisor who will act in your best interest isn't always as simple as asking your advisor whether they're a fiduciary. There's a difference between somebody who says they're a fiduciary and somebody who says they'll be a fiduciary for you.
Why? Because there is a designation called Accredited Investment Fiduciary®.
This designation simply means that you took a test and can put the letters AIF® behind your name. This designation does not actually mean that the holder is acting in a fiduciary capacity.
Because of this, when you ask a potential advisor whether they're a fiduciary, you might want to dig a little deeper — and one way of doing this is by asking who that advisor reports to.
FINRA and the SEC
There are a couple of regulatory organizations that advisors can report to. One is called FINRA, otherwise known as the Financial Industry Regulatory Authority. This is a place that financial professionals report to if they're a stock broker or are selling, buying, or trading stocks for clients.
There is also an organization called the SEC (the Securities and Exchange Commission), which is an organization that advisors report to.
The SEC is the only way to actually be registered as an advisor. If a financial professional is only registered with FINRA, that means they're a stock broker.
However, it can get a little bit tricky when advisors are dual-registered, or registered with both FINRA and the SEC.
That means that when you walk into that advisor's office and ask, "Are you a fiduciary?" They could say yes. The big question is really, "Are you going to be a fiduciary to me?" Why? Because if they're registered with both places and say they're a fiduciary, when they are selling you an investment product, they're not a fiduciary for you. If they are providing advice, then they are a fiduciary.
We believe that your life can get a bit easier if you work with somebody who is only registered with the SEC — that way, you know for certain that when they are helping you with your investments, they are a fiduciary and are acting in your best interest.
In fact, we at Keil Financial Partners have chosen to only be registered with the SEC because we don't want to have any conflict of interest or to have any connection to the salesperson-side of the industry.
2. Finding the Best Advisor For You
Finding a good advisor isn't always easy to do. There are no advisors who come with built-in flashing signs that will tell you whether they're a good or bad advisor.
However, we have a few guidelines that could help you get a lot closer to finding that good advisor.
BrokerCheck
One of the best ways to find out what type of an advisor someone is, is to look into where they're registered (FINRA or the SEC) and to find out what their registrations are.
You can also look up advisors through BrokerCheck, which is a tool that will allow you to find out if anyone has ever complained about an advisor and whether they have judgements or settlements against them — which means they were found to have done something wrong to the point where they might even be paying back some money to people.
Designations
Another key to finding the right advisor for you is to look into what type of designations they have. After all, you need to know if your advisor really knows that they are talking about.
One of the big designations that you may have heard of is the CERTIFIED FINANCIAL PLANNER™ (CFP®) designation. To get this designation, advisors must go through rigorous tests and training programs. It usually takes two or three years, and participants need 72 different areas of expertise before they can get that CFP® accreditation.
In addition, if you want to call yourself a CFP® and want to be associated with the CFP® board, you have to pledge to the board that you will act as a fiduciary at all times, even if the government doesn't require it.
But sometimes you're not looking for a full-fledged planner. What other designations are out there that might help you?
If you're just looking for an investment advisor, you could look for someone with the CIMA® (Certified Investment Management Analyst) designation or the CFA® (Chartered Financial Advisor) designation. These are two designations are difficult to get, but provide advisors with the knowledge that will allow them to help you in the way you need it.
There are also some designations out there for retirement advice, like the RICP® (Retirement Income Certified Professional) designation or the RMA® (Retirement Management Advisor®) designation.
There are a lot of designations out there, but it can be worthwhile to look into the various ones that are out there and are relevant to you and your needs so you can find that financial professional who will be the best fit for you.
Signs of a Bad Advisor
You don't want to find a bad advisor. In fact, you'd probably like to avoid meeting one.
So, what are some signs of someone who might not be the best advisor?
Apart from looking at their level of experience and where they're registered, there are some key things you can look for when looking up an advisor on BrokerCheck.
Some keywords to look for are:
Settlements
Judgements
Sanctions
Penalties
Suspensions
Separations
Barred
If an advisor has any of these words under their profile in BrokerCheck, it's probably a bad thing.
However, it's important to note that whenever somebody sends in a complaint or grievance about an advisor, it will show up in BrokerCheck regardless of whether that complaint was dismissed. So when you look at complaints, it's also important to find out if it was dismissed, in which case that complaint has no merit and the advisor did nothing wrong. If there was some sort of penalty, then the advisory probably did do something wrong.
3. Learn How Your Advisor Get Paid
The final thing you want to look at when finding your new advisor is how they get paid.
You know how your plumber gets paid. Do you know how your advisor gets paid?
This is something that is worthwhile figuring out ahead of time.
Usually, advisors are paid in three different ways.
Commission (because something is sold)
Investment Advice (which is usually a quarterly fee)
Consultation Fee (which is typically used with financial planning)
There's nothing wrong with any of these types of fees, however, it's important to find out how your advisor is being paid so you can find out if the way they're being compensated lines up with what you need.
If you're just looking to buy something, maybe someone with a commission-based fee structure is right for you. If you want investment advice that's ongoing and objective, that could mean that someone with a quarterly fee is right for you.
However, if you want answers to questions that don't involve stocks and bonds, like when you should file for social security, or how to set up your estate, then you might want to look for someone with a consulting fee structure.
At the end of the day, when looking for the right advisor for you, make sure you're doing your research, know your needs, and are asking advisors the questions that will help you discern what kind of service they will provide you with.
For more in-depth information on finding the right advisor for you, be sure to check out our white paper, "3 Things You Should Know Before Choosing a Financial Advisor."